Barons Diner's Card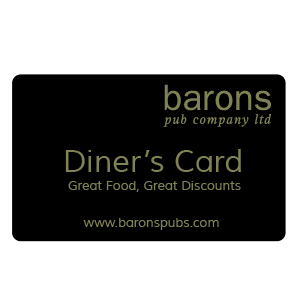 £2.00
Get 33% off your food bill with a Barons Diner's Card
Apply for a card now and start getting 33% off your food bill with early evening dining!
Your Diner's Card may take up to 28 days to arrive. If you are still waiting for it by the time you're planning to visit one of our pubs, please feel free to print off your order confirmation and bring it with you to receive 33% off your food bill.
Barons Diner's Card
You must pre–book your table and be seated between 4pm and 6pm and your table must be vacated no later than 7.30pm.
You must mention your  Diner's Card at the time of booking in order to receive your 33% discount on food ordered.
The  Diner's Card offer is available all year round Monday to Saturday,  for tables of up to 8 people including children.
In addition, during the months of  October – March only, the Diner's Card can also be used on Sundays after 7pm.
Diner's Card cannot be used on Bank Holidays, Valentine's Day, Mother's Day, Christmas Eve, Boxing Day, New Year's Eve or New Year's Day.
The  Diner's Card may not be used in conjunction with any other promotions, discounts, fixed–price set menus or function menus, theme evenings or Christmas Set Menus.
Only one Diner's Card is allowed per table per bill transaction.
The Diner's Card must be presented when paying the bill. No card, no discount.
The Diner's Card cannot be used on day of purchase.
Barons Pub Company Ltd reserve the right to change the terms and conditions of the use of the  Diner's Card and/or cancel the card without notice.